159: Creating A Libertarian Country From Scratch – Vít Jedlička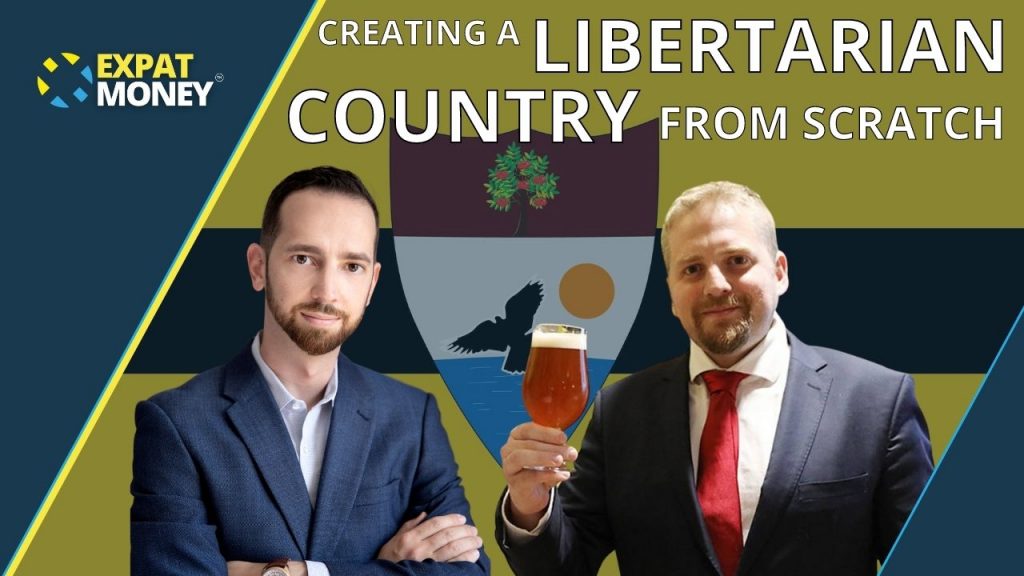 Today's guest on the Expat Money Show is Vít Jedlička, the founder and elected head of state for Liberland, a sovereign state located between Croatia and Serbia. Liberland is a constitutional republic with elements of direct democracy.
The country's motto is: To live and let live.
HERE'S WHAT WE DISCUSSED IN DETAIL IN THIS INTERVIEW:
Why it's futile to try and fix something that is broken, just start fresh and create something amazing.
3 of the strongest most powerful tools installed for governance in Liberland…and why it won't fail you.
How Liberland has used blockchain since its inception and why new technology could be the answer.
What happens when you're able to look at the entire world, pick the best governances available from each country and build your own nation from scratch.
Listen as Vit explains how they came up with real-life strategies to have more freedom for your life.
Our world needs solutions to help our family and friends, a big thank you to Vít for the work over the last decade pursuing freedom.
Where will you be for the anniversary of Liberland? Make sure to save the date and be there!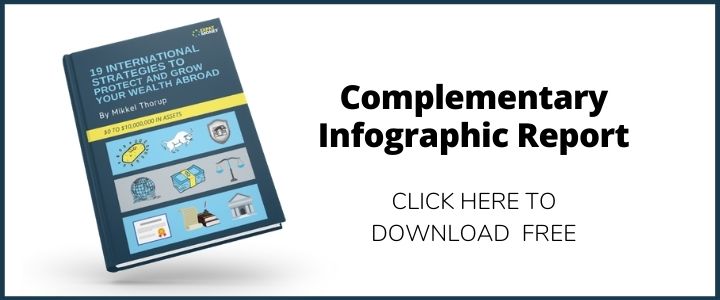 PODCAST EPISODES YOU WILL ENJOY
137: Blockchain And The Future Of The Internet – Marco Wutzer
135: Living A Perpetual Traveller Lifestyle – Sergio Von Facchin
091: The Wandering Investor Shares Insights From Around The World – Ladislas Maurice
HOW TO REACH VÍT JEDLIČKA
CONCLUSION:
I am really excited about the future of Liberland. Vít and his team have worked extremely hard over the past several years and I look forward to seeing how this new country uses Bitcoin and the blockchain to create the very best governance for a free and just world.
Transcript
::
Announcer: We all dream of seeing the world, but the realities of living somewhere outside your place of birth can be daunting, to say the least. Welcome to the Expat Money Show, helping you make the most out of your overseas career. Through conversations with successful expats on investing, entrepreneurship, self-improvement and continual education, all while sharpening your financial acumen, now please welcome your host. With over 20 years of overseas experience, Mikkel Thorup.
::
Mikkel Thorup: OK, before we jump in, I want to introduce you to a friend of mine, his name is Swen Lawrence, and he is unbelievably smart. I got connected with him probably about a year ago, and we started talking a lot like on a really regular basis. I really like the way that his mind works.
::
Mikkel Thorup: His investment strategy is really based on finding undervalued stocks around the world, not just domestic. Now he's scooping up different companies across the globe at amazing prices, and his returns are phenomenal. You guys can actually follow along with a lot of his knowledge and information on his weekly dispatch. You guys can check it out at ExpatMoneyShow.com/undervalued. We're actually going to be doing a lot more work together, and I'm really excited about this partnership here. So guys get to know him, get to know his work. If you guys are interested in stocks in investing in equities in companies, then this is the guy that you want to follow. You can go to ExpatMoneyShow.com/undervalued to sign up for his free newsletter. He has a paid newsletter as well as a lifetime subscription. They are also worth checking out. I am actually a lifetime member myself. I love his special reports. They are fantastic. He has a little bit of humour in them. He is really intelligent, goes into a deep analysis, but doesn't make it dry or unfunny to read so fully endorse this. I really am excited about it, and I hope you guys get a chance to take a look. Go to ExpatMoneyShow.com/undervalued all one word undervalued. OK, let's jump into today's interview...
::
Mikkel Thorup: Welcome, welcome, welcome. My name is Mikkel Thorup, and this is the Expat Money Show. Today's guest is the founder and elected head of State of Liberland, a sovereign state located between Croatia and Serbia. Liberland is a constitutional republic with elements of a direct democracy. The country's motto is to "live and let live". I love that. Please welcome to the show, the founder and elected head of state president Vít.
::
Mikkel Thorup: How are you, my friend?
::
Vít Jedlička: Great to be with you, Mikkel. It's also great time here in Dubai. I think it's one of the busiest times in the year, with the Expo starting and with our presence on it. And also it's, I think, like 40 different crypto conferences that are taking place. So it's a lot of exciting events happening here.
::
Mikkel Thorup: Well, absolutely. And we were chatting just before we pushed to record today. I lived in the Middle East for many, many years and I wish that I was there right now to be able to see you, but I think we'll be at another event next week. I'm going to be digital, you're going to be in person, but it's kind of funny how our paths cross over and over again.
::
Vít Jedlička: Well, you know, we're probably heading the same direction.
::
Mikkel Thorup: Probably, so why don't you take a minute and kind of explain not just about Liberland, but how did it start? I'm curious about your backstory, how you decided that something like this was necessary, how you would even begin to build a country from scratch? I mean, all of it. I'm super excited to learn from you.
::
Vít Jedlička: Well, there is this famous quote by Mr Maxwell that it's much it's, you know, instead of breaking things, you know, you should start building from scratch, right, to inflict a real change. It's much easier actually to start building from discouraged and try to fix the old things. So we followed that idea, and for many years, I didn't realize I was following it. But then it makes complete sense to me. We tried for, I think, six years, seven years to change something and should probably be started a a big educational website for for people that didn't know what is politics about, and we usually had like 21 million views at the time. And so it's not that bad in a 10 million people country, right? Like you would say that everybody saw at least two videos.
::
Vít Jedlička: And then we also started a political party, and we really saw that we're going to make it into the parliament and change everything. But that's true. We made it to the European Parliament. I realised there is actually no way, even if we had majority, to be able to substantially change anything. The system is so built that it cannot be changed from within. Right. And the only way is to change it from outside.
::
Vít Jedlička: And just like Bitcoin is revolutionising the way the traditional finance institution works and especially the central banks will work probably very soon or will not work at all. We we saw that we need to innovate on the level of the country governance, and there has been no innovation for more than 200 years, right? I mean, American constitution has been a great step forward and there has been done very little sense. And we are living in this great world of decentralized organizations and we've got all these great thinkers like Murray Rothbard and Mises and many others that did a great job on describing the ideal society. So I just decided to go ahead and try to create on my own, of course, with the huge support now behind my back.
::
Mikkel Thorup: So do you think that if we were to go backwards in time, 50 years, 100 years ago, would you still be able to do something like that? Or is it the technology that has allowed you to be able to create something like this?
::
Vít Jedlička: Well, of course, you know, we could collect the applications for citizenship through mail, but since we had the internet, we received like 600,000 emails and and 200,000 applications in the first week alone. So that really helped the fact of being able to interconnect and the fact that the international news are spreading so fast. But of course, I think the idea of Liberland is timeless, right? You could see that you can trace that back to the exodus of the Jews from Egypt all the way to the American Revolution and the Tea Party movement. And the motto is kind of still the same when the text become too high and when the when the freedoms are being deteriorated, then there is a great urgency in the society to try to fix that. And I think this time around, when the taxes have grown up to, I don't know, sixty five percent in Western societies, in many places, the urgency is ever higher. And of course, people have a chance to move to some places, which are a little bit freer. But I think the best way to go about is really start from scratch because we can see that even the countries that are free, they're still under huge influence from from the powers that be that are trying to install corporate 15 percent tax that are making all sorts of silly movements to install all kinds of global taxes and and regulations. And and the projects like you are really turning down the potential economic growth in Europe. And we have to we have to fight with it through different means. And the best way to to deal with these kind of things is to start from scratch.
::
Mikkel Thorup: Now that makes sense for sure. I think that it's also interesting because I mean, if we look at somewhere like the United States, they had the Constitution and things were very free for a very long period of time. And the document did protect people and people's individual rights. And then slowly but surely, they started being eroded one by one by one. And now we have the largest, most obese government in the world, which is causing so many problems around the world. What are kind of the strategies to make sure when you were writing the Constitution or the organization was writing the Constitution that it doesn't get eroded in 100 years or in 200 years after we've all moved on?
::
Vít Jedlička: I think the strongest tool that we have installed for that is that there is only one institution that can create new laws, but there are three institutions that can get rid of them. So we do have a set up veto. We have a constitutional court. We do, and we also have a public veto, something that we took from Switzerland. You know, the majority of society can get rid of any law that they don't like at any point after it has been passed. So I think the combination of these three institutes will be very helpful in making sure that there will not be unnecessary laws in place in Liberland and also the Constitution itself. I mean, this has been written in a way that step by step is tried to avoid the pathways through which the American constitution has eroded. So it directly states all those places where the problems have been or like the pathways for the duration of freedom were created that this is not a way for you politicians to go because we have it written right here in the Constitution. So we get try to patch all the holes in the U.S. Constitution, and we are adding a bunch of new institutions that are there just to get rid of new laws.
::
Mikkel Thorup: OK, so we talked a little bit about why it was necessary and how you got into this, now did you actually start the program before you had found the land or was the land the first step? I'm kind of curious about the history and maybe the timeline of how things have come up until this point. And then from there, obviously, we're going to be able to talk about what are the things that Liberland is going to be able to do.
::
Vít Jedlička: We actually had the idea first, and then we started looking for the piece of land. We almost ended up in the place between Egypt and Sudan. Luckily, that didn't happen because some American guy is stick the flag there, and we saw there is no point of going there and we had a series of discussions and there is a funny story. We also help him on the marketing side before Liberland started, and he actually never paid us for the service, which is the only person in my life that didn't pay me for the service. The territory of that place is five thousand kilometres and he owes us five thousand dollars. So I was thinking that would be an interesting way to settle the problem with the non-payment for our services.
::
Vít Jedlička: But, you know, we decided that's actually not a good idea to do it over there. And it would be. Much better to do it in a place, which is which is in Europe, where I think the free ideas are the most necessary to spread out right now and which is also in a culturally similar environment. And there is one more story to it. I mean, the Czech, according to the legend, came to Czech to the area of Czech Republic from the territory between Croatia and Serbia, and the legend is disputed. But just this fact, you know, take it into account and that in a way, I'm coming and going historically also to the to the roots of where the tribe that is was called. It was led by the guy called Czech that he was actually originally from a place between Croatia and Serbia. And of course, there were no other reasons why why this is a good place and and it's the right time for it in this particular place. It's a beautiful, heart-shaped territory. It's a beautiful place with a lot of nature around it, and almost it wasn't claimed by any other country for more than 25 years before we claimed.
::
Mikkel Thorup: OK, so can you dive into that a little bit? How does that happen? How does a large plot of land just get overlooked?
::
Vít Jedlička: It has been in limbo for for a very long time because basically it's either Croatia or said to be able to claim this piece of land. They would lose the border dispute with the other countries. So and that hasn't changed.
::
Vít Jedlička: So we're in a very special situation where Liberland land is the only entity which claims its territory. And right after Liberland land was created only 11 days after Liberland was created. Actually, there was this statement by the Foreign Minister of Serbia, which stated They don't migration of Liberland and us on this territory, and it was not formed on the territory of Serbia, which was very important because if you look into most of the world maps the ones that don't show Liberland and yet it has been displayed as a Serbian territory. So from that perspective, it's it's very supportive and very important statement from beginning, and they have been somehow helpful. Serbians since inception of Liberland and Croatia have simply states, you know, they it so well that they would like this territory to be Serbia, right? And they have never included it into any of their territorial claims. They have not entered into you with it. All of the Croatian maps don't include Liberland, so it is a very interesting position in which Liberland and it has become the only entity to claim this territory. And until now, we actually don't have any territorial disputes. It's of course, starting a new country is not that easy. We do have a lot of challenges and then the simple say step to take territorial control will be the most important step in the history of Liberland.
::
Mikkel Thorup: So you searched out, you found a piece of land. And I would imagine it would have been very, very rare to find any land on Earth like I've done some work with the Seasteading Institute and I mean their ideas, all the land is taken. Therefore, we're going to go out into the water. How do you even go about trying to find a piece of land which is not taken? Is there any other pieces of land on planet Earth that have not been claimed? Or was this like really finding a needle in a haystack?
::
Vít Jedlička: There is a bunch. I mean, our piece of Antarctica hasn't been claimed yet. Actually, there is a really brilliant flight stack there by one of our citizens already, but there has not been a serious attempt to do climate and there's been part of the international treaty.
::
Vít Jedlička: You know, there are multiple places in war zones which are unclear. And there was this place between Egypt and Sudan. There is actually a Wikipedia article on the terra nullius and the places that were left. And you know, and interestingly enough, Liberland was there and it was just a clear choice in our shopping list that I felt in love directly when I just saw that and the shape of the territory and when I just dipped into it when we were, we were considering Liberland on this potential place for gorgeous figure as potential place for creation of Liberland land. And so the territory was formerly known. If you're looking for it, then then it was just immediate, immediate relationship with this piece of land because the legal side of it is really interesting and it's very clear that it has been an no-man's land before we it.
::
Mikkel Thorup: Well, I'm not a superstitious individual by any stretch of the imagination, but it is quite amazing that when you go out to look for something to create a country for freedom and liberty, you find such a amazingly beautiful, perfect spot. Like, I mean, you and I have been on video calls before together and you've shown me the space and I was like, Wow, it's very pretty. And it's like, I would not want to be in the middle of a war zone or in Antarctica or some of these other places that you mentioned. But I mean, right in the middle of Europe, I mean, it's amazing.
::
Vít Jedlička: Yeah, it's also very strategic. The great thing about it is on the Danube. So we are on an international waterway and that it basically allows you to kind of Seastead the Danube. Many people have done that. They have done they have even grown marijuana on the Danube. But it's protected by these very strong international treaties that make it similar. Like you, you go out of territorial waters of the country. So that's another great thing about it. And another amazing thing is that it was naturally created and it has almost, I would say, a more. We tried to count almost perfectly seven million square meters. So perfectly nice number as well. Very symbolic and perfect place for creation of a new country where roughly three times bigger than Monaco. That makes it a very reasonable slice of creation of new countries similar size like Gibraltar, 10 times bigger than Vatican. So from this perspective and the development of Liberland, and I think it's the perfect, perfect fit.
::
Mikkel Thorup: And so where are you guys now with colonizing? From my understanding, all of the you guys are more focused on having the constitution, having recognition these types of things. Is there any people living yet in Liberland?
::
Vít Jedlička: Well, what we have done, there are two projects that are directly aimed at settlement of Liberland. First one is the houseboat project, and we are building ships actually that are running the station next to Liberland, and the next spring will be another big round of debt. So people that want to be able to stay in Liberland and the best way to do it is get the nice, trendy houseboat with, you know, two bedrooms and living room and all the necessities. So that's one way we're going about it, and that's that's the one where we are showing a serious effort to actually put people inside of the territory. And the other one is a base that we have created or that we purchased two months ago and has already been a place for our annual festival called Floating Men. So it's seven hectares of land where there will be a village on the opposite side in Serbia, which we managed to acquire. And that's a great place for architects now to show what they can do. By the way, you can also see that on our elder plant, the initial design is already public. So that's another exciting projects, which helps us to learn more as a community, how to construct different things, how to interact with the locals. And it's one of the initial projects to show that we are actually serious about inhabiting Liberland as well.
::
Vít Jedlička: And maybe I should just mention, you know, there is one more effort which is more on the commercial side. We also managed to start the free trade zone that's also five kilometres away from Liberland. So very close and and we are developing there a presence that will be used by Liberland and other companies, which is a place. There is no VAT, there is no customs. It's a very special place, basically. And under the standard free trade zone legislation that is there already in Serbia. But I think in relation to Liberland, it's a great opportunity to bring some very cool businesses and manufacturers and traders to build up a large logistics center, that's also a project for next year, which is very close to completion already in the form of the initial, for example, building it will be used for logistics.
::
Mikkel Thorup: Well, and I also saw on the website when I was doing my research that there's actually a company registration that will be done through Liberland. There's all types of things that we would normally expect for some type of an offshore near-shore. Just a jurisdiction just got a facelift today. I just saw the facelift, you know, where I think two hours ago. So there is a hard work on that site as well, and it will be integrated into our blockchain government's governance very soon. So it will be a lot of fun because we will be able to incorporate Dulce on top of Liberland and governance blockchain.
::
Mikkel Thorup: Amazing. Well, when I went through my residency program for Liberland, I was amazed because you guys used KYC Chain from a previous guest of mine. Probably about five years ago, he came on to talk about KYC chain. So it's actually using technology right from the very first moment when you apply for residency, using blockchain to go through all of these processes. So it's being built with very strong backbone for for lack of a better word, which I was very impressed when I went through.
::
Vít Jedlička: Yeah, well, of course. The founder of KYC Chain is a Liberland and citizen from very beginning. And it's a lot of fun to try to put all these leaders of different projects, crypto projects and blockchain projects together because most of Liberlanders are doing something really cool. Sometimes it's even difficult to decide, you know who's going to do what? So, you know, we're really in this exciting time and especially I feel it here in Dubai, right when I'm meeting all these people who are citizens on these blockchain conferences and they're doing these multimillion-dollar projects, you know, using it yet another use cases for the technology, that Satoshi has laid out, right? So it's a really, really cool to to see that the revolution happening, especially in the financial world, but now in the insurance industry.
::
Vít Jedlička: And and I think with a little bit of help of Liberland and also in the in the space of governance of nation-states.
::
Mikkel Thorup: So earlier you talked a little bit about Floating Man, the conference I was supposed to go this year, but because of our new baby, I wasn't able to attend. Hopefully next year, I will be there. It's on my calendar already. Why don't you talk to us a little bit about the conference, what you guys do on an annual basis? And you know, obviously where people would be able to find out more about that.
::
Vít Jedlička: Well, Floating Man's aim is to attract as many people as possible to come at the same time to Liberland and but also do it in a very, I would say, entertaining way. So we have a lot of our artists and musicians, and this year we were able to attract the thousand people. I think we need to attract a couple thousand people more to be able to properly settle in Liberland. But it is literally an exercise for to settlement of Liberland with a lot of artistic help. And this year we also had a conference which was very well attended. It's also great spot for promotion of Liberland and businesses and the local advancement of multiple things. It's a great way to invite the local thought leaders, the Serbians and as well as Croatians.
::
Vít Jedlička: And right now, we also have a nice venue for it. So if you're coming to visit the village, we actually bought it with a with a restaurant in place that's going to fit up to 300 people. So we already have the venue there from which this whole Floating Man is happening and people get on boats. And if you know a Firmer line, a Firmer I'll if I'm spelling it, pronouncing it right, it's this great gathering, which was also inspiration for us. So people get on the boats and and they do enjoy the delta of the river in San Francisco. If I'm correct, in our case, it is Danube River and they enjoy Liberland and they enjoy the summer weather and the beautiful sandy beaches. If the water is not too high, then they also have a really beautiful spot for for swimming in the summer and enjoying themselves.
::
Mikkel Thorup: Well, I'm super excited about it because I looks like a lot of fun. I was watching some pictures and some videos. I also watched you do the introduction, the welcoming ceremony. I think it was. I watched some videos from that and it was like, Oh, I really wish I could have been there for this year, but definitely next year. Well, for sure, next year.
::
Vít Jedlička: Awesome. We're very looking forward to have you. And I hope you will be able to do your show out of out of the media room that they're preparing now.
::
Mikkel Thorup: Yeah, that would be amazing. I'm very keen to go and film a lot of content. I think I will most likely be a speaker as well, but just to meet everyone and actually spend time with people again of like mind who are actually wanting the same things, who are actually actively going out there. I think that's the big difference between this program and a lot of other libertarian programs that are out there. A lot of times programs and hosts and things like this will talk about why we need to have liberty in our lives, why we need to have freedom. And a lot of it is a thought exercise, but they're not proposing any real strategies. The work that you're doing is a real-life strategy for actually helping people to have more freedom and liberty in their life. And I really commend that. I think that it's something that we should all get behind because just talking about things or complaining about things is not the way to go. We actually need solutions. We need things that we can actually do with our lives to help our families, to help our community. So I mean, with that, I think that thank you for the work that you do because I found out about this probably about five or six years ago and have been following along since. And you know, we got connected earlier this year, one on one and the tremendous amount of work that has been done in the last five or six years since I've been watching.
::
Mikkel Thorup: Yeah, really amazed me, really amazed me because this is one of those types of things where I mean, you might chat about, you know, wouldn't it be great for a place that we could live that was free and open and we were not oppressed? And then you actually didn't just talk about it. You actually went out there and did it. That's amazing.
::
Vít Jedlička: All right. Thank you very much for your support and the kind words. We've got still so much work to do and believe in pushing the things into, into the, you know, into this particular area. And I'm really but on the other hand, I'm really enjoying the fact that Liberland has become a huge help for people that seek liberty and they help each other to get through, you know, getting the licenses for crypto exchanges, seeking other citizenships, finding out the best solutions for I don't know if we're making bridges between different blockchains looking into how or where the businesses international businesses are the easiest way. So we are literally a nation of freedom-seeking individuals that that does have the best of the best experts in each field somehow involved.
::
Vít Jedlička: So, you know, it's not a coincidence that, for example, nomad capitalist is also based very close to Liberland already. And there, I would say, doing one of the great works on putting people on the right path in terms of their financial freedom and that you are involved. Of course, you know, there has been a great amount of work on many fronts in this regard. So. I really enjoy the group and the social gathering and the fact that we're able to make big steps, especially this year and the beginning of next year, to make things happen, you know, around the territory as well as in the territory, and we are finally finishing the Constitution and the blockchain governance, and we are also putting out an exact idea how Liberland and could be physically developed. All these things really make me enthusiastic about the months to come.
::
Mikkel Thorup: Well, and I think that it really could turn into a hub for like as an accelerator program on people who have projects, different entrepreneurs from around the world that would be able to gather in a spot and actually learn from one another, teach, brainstorm, mastermind all of these types of things that really happen with a physical space. I mean, we can do online, but a lot of it is much better done in person. And when you have all of these types of people together, I think literally like magic could come out of this country.
::ike when Liberland started in:::
Mikkel Thorup: Well, and that kind of reminds me of the story with Julian Assange and WikiLeaks. They banned taking any donations for WikiLeaks. And the only way that they could get payments was through Bitcoin and the appreciation of Bitcoin. It ended up doing them a massive favour. They ended up making, you know, tens of millions, possibly hundreds of millions of dollars by holding on to the Bitcoin through this time. So by actually accepting Bitcoin or these other projects years ago, it's actually probably had a good boost to the economy of Liberland.
::
Vít Jedlička: Of course it did, and it helped us a lot. And right now, I would say we are following up with El Salvador. We send some foreign aid through Liberland and Aid Foundation, which is a separate activity from the state, and now it opened up some doors. So, you know, I'm happy that there is a second country to basically adopt Bitcoin as a main currency. We have not.
::
Vít Jedlička: You never pushed for any adoption of any legal tender right in Liberland, and anybody is free to use whatever currency they want. But of course, America, the Bitcoin has become the number one currency in our ecosystem from the very beginning.
::
Vít Jedlička: And now we can kind of share as a nation a little bit of that, I'd say. Wealth now with El Salvador, who has jumped on it as the second and the money or the bitcoins are going to the Children's Hospital, which is going to get funding through that organization. So you know these things, it's also kind of interesting like that Liberland are doing some humanitarian work abroad and now in more than eight countries, they're doing some charity work because of cryptocurrencies and because Liberlanders are wealthy.
::
Mikkel Thorup: Amazing. I've started getting into giving in charity work in nonprofits this year as well. My listeners will probably know the work that I'm doing with Ten Eighteen in Uganda and it is amazing work and not something that I have a lot of experience with. So I am going to definitely be reading up about the work that Liberland is doing, that other Liberland citizens are doing and possibly find ways that I can help and get involved in with that as well.
::
Vít Jedlička: Thank you very much. Any connection with other humanitarian activities is very, very much appreciated.
::
Mikkel Thorup: OK, we're just going to take a quick break for a second. So recently, my friend Olly Richards has released a new set of Uncovered courses for learning a second language.
::
Mikkel Thorup: These are the exact courses that me and my family used to go from a really crummy Spanish to fluent in less than a year. So I am a big believer in his work. Not only that, but we've really become friends over the last couple of years, so I'm really happy to be able to support his program. So if you guys want to learn a second language, if you want to be a digital nomad, if you want to travel the world, then these are the programs for you. All you need to do is go to ExpatMoneyShow.com/languages. He has some special promos there. Some special deals, new courses coming out, lots of exciting things. I hope that you guys take a second to go and look for it. Learning the local language really shows respect for the people, for the culture instead of just forcing everyone to learn English. Listen, trust me, I know I have been travelling for over 20 years. It's not always easy to learn another language. Even a few words, though, can really make a big difference. And if you want to be an expat and live in another country, like in Latin America where I am then learning Spanish is pretty much mandatory. So go to ExpatMoneyShow.com/languages and check out the work that he does.
::
Mikkel Thorup: OK, let's jump back into the interview.
::
Mikkel Thorup: So why don't you talk to us a little bit more about the currency? You quickly mentioned that there will not be a legal tender, but I know that you do have the Merit system. Maybe you can explain this a little bit more and at the same time for commerce, what you would expect to be done in the streets of Liberland when we have them.
::
Vít Jedlička: Well, I think once we declared that Liberland and will have voluntary tax systems, it also makes sense to go one step further right to reward people that actually pay taxes, which is quite a revolutionary idea in a sense that again, like some countries do have a low taxes or zero taxes, but voluntary there is no tax, no country that would propose a voluntary tax system and give something back to the to the citizens that pay them.
::
Vít Jedlička: So, you know, in the traditional country, you really go out there and you are supposed to pay 20 million dollars in taxes, you pay just one million dollars or less and they send you in jail and they don't say you. Thank you for the $19 million that you paid, you know, in Liberland.
::
Vít Jedlička: And we would like to create a system which in which the citizens, actually when they pay taxes, they get the share of the country back. And that was that that is the whole purpose of the Merit system. So no donation or no, no support of Liberland and is forgotten. Everybody that helped Liberland and somehow forward, we will receive a token of appreciation from the country itself, which the whole ecosystem is being built on, and we intend to launch this in April. It's our great wish that the whole system of decentralized justice and Congress and Senate will be launched from six months from now. We're already running these sets. So it's not that it is in the cloud, it's something which is happening. It took us a while to find the best technology out there to combine our needs that we have put together in the Constitution and to be able to find something that would not be too difficult to develop that is already tested. We found it, and now we're we're already testing it. We actually had a big article just shortly before we connected with other developers, showing us how things have progressed.
::
Mikkel Thorup: And with the Merit system, is it on the blockchain or how does that work? Is it available for people to participate in or how does that look?
::
Vít Jedlička: It is a proof of stake blockchain. Of course, it is a blockchain that will be run by Liberland citizens. They will be basically validators if they will run the servers that their nodes would be randomly selected to confirm the transactions on the blockchain. But in our constitution, they are not supposed to get political. They are supposed to basically confirm the transactions as they go. The political part is solved in Congress and in Congresspeople are voted in by people that hold Merit and basically the election is taking place every three months. And not just that. Also, congressmen can lose their power. The citizens can remove their votes that they give them any time they want. So with next block being minted, they can also lose their power if they do something which their voters don't approve of. So we have a very dynamic governance system with initially seven members of Congress and ultimately 21 members of Congress, which I really believe will be a driving force of diplomatic and business and activities that really get Liberland on the world map. So, you know, even though Liberland and according to the Constitution, is supposed to take care only of justice, security and diplomacy. I still believe there is a huge amount of innovations that can be actually achieved when there is a dedicated group of experts that will be voted by Liberland and as a citizens, and that you can expect a lot of innovation happening inside of our technological arena that that will be created next year.
::
Mikkel Thorup: Well, because when you look at somewhere like, well, most of the Western world, I suppose, and you look at the voter base, the voters are the masses, they're obviously going to vote for the person that promises them the most free stuff. But they're not the ones that are contributing the most amount of money. They're not paying the most amount of tax. If someone is on a very, very low wage, it's if it's a percentage-wise and then percentage-wise, they're paying considerably less. So it's interesting that you've kind of flip things on their head and looked at it through a different angle. The people who contribute the most amount of money or the most in other forms to the government are the ones that are actually going to be able to make decisions. I'm really interested to see how this is going to work, how it's all going to to lay out. I mean, it is very revolutionary. It's not something that we're used to. But, you know, thinking about it and the layout of how this will happen is fascinating.
::
Vít Jedlička: If and there's some other elements which include it, so people, for example, decide they would like to basically receive their taxes back for whatever reason, basically start collecting welfare. They will lose at the same time to the voting rights. So yes, it's possible to basically unstick your tokens out of the ecosystem, but at the same time, you will not be able to elect people into the power. So it's another good incentive for people to stay with Liberland and right. We are even considering the possibility to sell the citizenship as a membership or in an organization as a package that's still has been explored what exactly it will do to the system.
::
Vít Jedlička: But we also want people to be able to leave. Of course, if they find a better country or better nation to leave the ecosystem, to have a full freedom to move in and out as they wish.
::
Mikkel Thorup: Well, citizenship by investment is big business. I mean, 20, 30 years ago it was pretty obscure. But I mean, in this day and age, we've got the five Caribbean countries. We have Vanuatu, we have Malta, we don't have Cyprus anymore, but there's Montenegro for the rest of this year, and there's North Macedonia that just goes. So there are a lot of countries that sell their citizenship straight up where, you know, it's an economic exchange for the citizenship. So I think that following in that is makes sense. I don't see why people need to be beholden to the country that they were born in for their citizenship as an adult. If you want to make a conscious decision to move somewhere else and to participate in that community. I think that it should be open, absolutely.
::
Vít Jedlička: But just think about it. Don't compare. Let's compare it one more time in the traditional country, you have to pay taxes. Otherwise, you go to jail in Liberland and you can choose to pay taxes. You can even choose to which direction they should go, and you get actually rewarded for paying that right. It's a big change, and I think it's actually completely somebody would say it's a utopian concept, but it's completely realistic. It's so it's a rational way our society should develop. And just like we basically mean separating the state from church, we really have to separate the state from economy. That's another big thing that has to be done and make this relations between the state and the citizens voluntary is it's another big evolutionary step that has to be done sooner or later on on a larger scale in order to move to the next level of evolution of humankind on this planet.
::
Mikkel Thorup: And separation of church and state is called antidisestablishmentarianism. I'm not sure what the reference is for separating economics from state, but I definitely think that it's a good idea.
::
Vít Jedlička: Never heard that term before, actually, I have to look it up.
::
Mikkel Thorup: Yeah, I don't know the word for the separation of economics and state, but I will look that one up for sure. Maybe we'll put it in the show notes at ExpatMoneyShow.com. Or maybe if you guys know who are listening today. Put it in the comments below.
::
Mikkel Thorup: OK, so back on track. So with these taxes? OK, I'm trying to get my head around this a little bit because for me, obviously, I mean, I am constantly trying to help people never pay taxes. I mean, legally. I mean, have as much freedom as possible and not pay any taxes now being able to pay taxes, but then be able to take them back. If you don't like what is happening, I think is an amazing concept because I can already think about, you know, if your country decides that they're going to go to war for another country with another country, you could defund them. You could request the money back. Like, I don't support that. That's not what I want to be involved in and pull your money out. But what would the money go towards? Because they would kind of thing once it's used once the tax dollars are used? How would you be able to get it back from the country as a citizen? How would you be able to get it back from the country?
::
Vít Jedlička: Well, of course, the tokens that you get in return, they are not going to be completely free to exchange it or get them back. Only 10 percent initially. That's what we're planning. That will be possible to get in a year. So that's kind of that's a kind of a very rigid compared to, let's say, another staking mechanism on top of the hour. But it's a good way to to be able to basically receive a some sort of welfare if you, for example, run into trouble. And you know, and of course, for example, if Liberland becomes, I would say, under siege by another country, we must not, you know, allow older citizens to immediately cash out and then take out. I think, you know, there is a necessity to have this continue and see of things. So what we were considering is that this is a reasonable amount of the share that you can undertake from the country. And it's something which will not destroy the system. If everybody decides it wants to to to kind of leave, it will. It will still allow the government to function. Maybe it will create, of course, drop of the value of the token of the of the share of Merit. But it will not mean a complete collapse to the ecosystem, especially if there will be enough reserves in defence of labour land in Bitcoin. And I'm not worried that this will have any kind of adverse effect or long-term adverse effect, at least.
::
Mikkel Thorup: So it's really focused on the Social Safety Network. So as you said, if someone you know loses their job or they can't, they've had some type of, I don't know, accident or something like this that they the country will be able to take care of them. But it's going to be done in a responsible way.
::
Vít Jedlička: It's also, you know, it is an alternative to social network. It's kind of an insurance, but also a good way to make sure that the stood still in Liberland works a similar way. Like basically, corporations work, but it's some sort of hybrid between a state and corporation in this sense. And I think it's a healthy, healthy merger of the two things. So the shares are not completely free to trade, but on the other hand, they're free to trade if if there is a necessity or if the person simply wants to move elsewhere.
::
Mikkel Thorup: OK, brilliant. I mean, it is a thought exercise trying to understand all of these different things the how it would fit together, how it would work, and if this then that type of situations. So that is something that I'm interested to explore a lot more and to learn more about.
::
Vít Jedlička: You know, there are so many other elements that we put into the system, and, you know, one of them is, for example, Senate, it is basically kind of House of House of Lords, but it only does have a veto power. It goes out of basically founders of Liberland and the biggest contributors that are slowly adding up to the 100 senators that there might be eventually. And I think it's a good way to make sure that there is. This also kind of a long term consistency, this kind of a small monarchical element, maybe in the system, which I think is actually useful to have yet another institution that can veto new laws, not create them, and that can slow down the decline of Liberland into socialism over time. So I hope you know the founding fathers did that make the United States free for 200 years? I hope we will be more successful with Liberland, and I'm giving it at least 300 years ago to be a free country before we have to set up another one.
::
Vít Jedlička: So, you know, and that there are at least other elements that we're building, like a justice system, which is based on the rules of international arbitration. And there are some other very cool elements that we took from you. If you're familiar with that system and we've tried to make it simple for people to resolve disputes. So therefore it has to take an arbitrage. But if they cannot agree on that, then there is a first instance court and then there is then three judges in the second round. You get some inspiration from a project like Belarus, which is also interesting. Dispute resolution project on blockchain launched on Ethereum two years ago.
::
Vít Jedlička: So we are trying now to actually implement this protocol and get the grant from Polkadot Foundation in order to implement it for a whole ecosystem. So I think that's another very cool, innovative thing that the Liberland is putting together. So that Liberland system, of course, is scalable and it's very efficient in delivering the results.
::
Mikkel Thorup: Well, it's amazing because you're able to actually look at the entire planet and cherry-pick the very, very best of each governance system of each country and say, OK, well, this work, this didn't work. Why didn't it work? OK, because of this? How could we modify things? Change things? I mean, you get to build your own puzzle, you get to create things from scratch. And if we look at any of the countries over the last, I don't know, 50 to 100 years like Singapore or like Hong Kong, and the more they deregulated and the less laws and rules and the lower taxes and the easier ease of business, I mean, the countries absolutely flourished. And it's like a repeatable. Project, I mean, over and over and over again, you can see how this happens. And now you guys get to look at the entire world. And with all we know, with the information of the internet and find the absolute best things and put them together.
::
Vít Jedlička: And that's why I'm also excited to visit the Free Private Cities Conference on Saturday, because this is another place where people are getting together and they they really brainstorm what are the best ways of governance that are currently available. And I hope we will get a couple of people more people after this conference that is organized by Titus Gebel to fine-tune those parameters that are still sometimes difficult to fine-tune. You know how what should be different period of time before somebody, you know, can we can get rid of that law? Or what should be the right there for four Congressmen to, you know, all these things, they they are kind of difficult to set if we don't have a precedent of that happening on similar type of ecosystem. So it's great that Liberland is not alone, and there are many people that are actively seeking solutions to the best possible governance of either city-state. In the case of free private cities, our nation-state in the case of Liberland.
::
Mikkel Thorup: So my understanding of forming a country, one of the main things is actually being recognized by other countries. So how has Liberland handled this? Have you guys made diplomatic relations with other countries?
::
Vít Jedlička: Well, we're working hard on it. We managed to get recognition already by a couple States. Since the inception of Liberland, we were still keeping it kind of from public sight. There is, but there is one very interesting thing about the recognition by other countries. Montevideo Convention, which actually states how states are created, directly mentions that the state exists independently from recognition by other states, which is very important to understand. And that's why we actually started by recognizing Somaliland. There has been no other countries are giving Somaliland since they're actually visit. There are visits by a couple of other presidents after my first visit of a president to Somaliland two years ago, when Liberland signed a collaboration treaty with Somaliland. But the most important thing about a state if it is acting as a state right, so it should be able to enter into diplomatic relations with other states. It should have a government. It should have a territory. And it should have citizens. And those are the key elements to the state.
::
Vít Jedlička: And there is a very nice article by Chicago journalists international law, which you can read up, which is like 30 pages long on the history of the territory and on the fact that Liberal actually does already follow them on Montevideo criteria for statehood. So, you know, this is the Somaliland recognition was the first I would have coupled it to be now achieved. We are working hard now with more than, I would say, 80 countries where we are actively involved in diplomacy right now. I'm speaking to you from Dubai, where we are also opening the dialogue with the people that are running this country in order to get more support, not necessarily directly recognition, but let's say behind the doors support of what Liberland can do for the whole region and show them that we are actually using the best to replicate the success of Dubai in Europe and being a good partner for them in the future.
::
Mikkel Thorup: And so and then what is your relation with Croatia and Serbia at the moment?
::
Vít Jedlička: In Serbia, as they did in the beginning, they don't mind creation of Liberland and we have a very good relations. I mean, we had the Minister of Economy of did opening up with us, the Free Trade Zone project around a year ago. So that was that was a very open statement from their side. We do have many people that that help us from different levels of Serbian administration. So, so the relations there, as well as very good relations with the local police, the relations are there great. And of course, because we are investing, we're building this fleet of ships. We are making this village possible and we're developing this free trade zone. We have a lot of business partners there and Liberland and companies are starting to be quite active in the region as well. So from that point, you know, from that side of the river, we are very, in very good situation.
::
Vít Jedlička: Croatia has been quite tough to deal with from beginning, but we haven't really pushed since some three years ago, the last arrests in Liberland. If you are familiar with the situation of settlement of different rounds of settlement of Liberland and happened to you and how years ago since then we didn't have any incident in Liberland, despite Liberland unrest actually campaigning in Liberland and on many occasions in the middle. So from that perspective, also the relations are getting better with the local police. But I think for us, we don't have that many shots to show to Croatia and to the world, but we want to do. We really want to prepare everything. The time is getting together for the next anniversary for 13th of April and then also a physical plan for development of Liberland is being finished and it will be actually turned into an interactive metaverse where people will be able to see how different buildings can look like and they can add their own architecture. They will be able to run conferences inside of Liberland and other social events like concerts. So we are building everything in the latest potentially and most attractive technology that is out there. So Liberland can be properly designed and enjoyed before it is actually physically built as well.
::
Mikkel Thorup: Well, I'll definitely be holding some of my conferences there once the infrastructure is in place. We do big conferences for the offshore markets. So I think that would be amazing.
::
Vít Jedlička: Awesome. We actually already tested with our partners. You know, some of the features and it's really amazing for big sales event or for any kind of conferences is just so much better than Zoom. It is very interactive, and especially if the market is around physical objects, it's a great way to present them. And it just by the way, you know, just the virtual part of Liberland will look just as great as your background that you will be amazed how amazing you know, really, the rendering is because we got some really good partners for it. You know, we are working with it's very promising startup for creation of virtual worlds, as well as with Zaha Hadid, one of the top architectural studios. So it's really coming together and we are only two days away from the official announcement of this collaboration. It will be done both at this Swiss conference and the very same time on the Chicago Biennial, where all these partners will be speaking and introducing the whole project.
::
Mikkel Thorup: Amazing. So with Liberland, are there any risks from stopping this going forward? I mean, we've talked about so many different things today, and I mean, I have so much hope and I'm so excited about it. That's why I reached out to you guys. Is there any risks out there that could kind of squash this plan?
::
Vít Jedlička: Well, what we're doing is, I would say, quite adventurous. But on the other hand, we are very conservative in the steps that we are taking. So where we're going to keep on developing Liberland as far as we can get without any sort of avoiding any kind of problems that we could potentially have with Croatia. And I think there is a huge space to still improve on on Liberland ideas being presented and Liberland and is being organized. And I think most of these things will be actually solved by these, this centralization by having by really not just talking about it like I have been doing, but actually by doing it right, by putting the budget of Liberland end entirely on blockchain, by putting all the decisions by the government entirely on a transparent ledger. So make a Liberland and a truly example of how the state can be run with the latest technologies and how I would say innovative to the thinking of the politicians that are motivated to run Liberland and in a competitive way can be. So I, you know, I'm just really looking forward to when I let things go and when the system will start taking care of itself because simply, the Merit holders will choose an active leadership, which will choose the best among them to make the next steps of Liberland possible.
::
Mikkel Thorup: Well, and I would add to that that I believe that by showing a good example to the world of what can be done and as Liberland flourishes that you will actually get positive attention from other governments and you might actually be able to sell the technology and help and do consulting for other governments who want to implement certain pieces of this. I know that's what's happened with Estonia, with their e-residency program. And you guys could really be pioneers in this space.
::
Vít Jedlička: Well, exactly, exactly. And, you know, I think we're probably six years ahead like we were with Bitcoin. So, you know, there is these six years which we really have the chance to utilize and make this into perfection so that we are ready for this next round of revolutionary movement that will bring transparency and bring some freedom ideas to the other countries, hopefully around the world.
::
Mikkel Thorup: Brilliant Vít. I love it. Amazing conversation today. Thank you so much for your time. If my listeners want to find out more about Liberland, if they want to get a hold of you or your team, where can we send them?
::
Vít Jedlička: Well, definitely. It's Liberland.org and it's an easy process. It takes like three, four minutes to register for your residency and from the time onward, you're very much likely to be getting a phone call from us and finding out how you can get engaged with our activities and wherever you are. We always have a representative there. You're likely to find some, some cool guy that will help you to get, you know, to find your way through our ecosystem.
::
Mikkel Thorup: Well, and I am a resident of Liberland and I am on my way to citizenship there as well. So I'm very excited to become more involved with the project and hopefully help out as much as possible.
::
Vít Jedlička: Awesome. Thank you very much, Mikkel. Great pleasure. And I'm looking forward to having for the festival next year.
::
Mikkel Thorup: Thanks so much. I'll talk to you soon.
::
Mikkel Thorup: Before you go, I want you guys to check out the course by my really good friend Marco Wutzer. He was a guest on episode 137 and we talked about blockchain technology and the future of the internet. It is a phenomenal episode, but he actually has a program out. And if you guys go to ExpatMoneyShow.com/leap, you'll be able to learn more. The market is changing, the world is changing, finance the economy, everything is changing and I think that crypto is going to have a really big part in these types of things. And it's not actually going to be just a digital currency.
::
Mikkel Thorup: Actually, there's a lot of things that will be used for triple entry bookkeeping, for accounting, for securing the internet. There's so much to be said about this, and I think it really is humanity's best chance to protect the internet and what we've all built here together. So what I want you to do is go to ExpatMoneyShow.com/leap. This is really a foundational course. You're going to learn so much about the industry, how everything works, how to get involved. And I really don't want you guys left on the sidelines. That's what it comes down to. So check it out. Go to ExpatMoneyShow.com/leap and we will see you next Wednesday on next week's episode. OK. Have a great day!
::
Announcer: This episode may be over, but your journey to greatness continues by visiting our web page and signing up for our newsletter for convenient access to new episodes, show notes and other crucial resources. Visit ExpatMoneyShow.com. We look forward to joining us on the next episode of The Expat Money Show. Safe Travels.