100: Massive Life Update & Celebration Of Episode 100 With Listener Questions – Mikkel Thorup

Mikkel Thorup interviews Mikkel Thorup! 100 recorded episodes over the last 3 years. Mikkel discusses the changes that he made with his family, how he accomplished them, and why. A great episode to listen to if you find yourself wanting desperately to become a digital nomad or move with your family to another country. What a thrill to be a part of The Expat Money Show with Mikkel Thorup.
TOPICS DISCUSSED IN DETAIL IN THIS INTERVIEW:
Taking over Escape Artist

Moving the podcast back to weekly, every Friday morning there will be a new episode waiting for you in your favourite podcasting app!

Moving from the UAE to Panama…arriving in Panama

Shipping container travesty

EA's new bookstore

Offshore Escape Summit – June 2020

Insiders Magazine

Interviewed every week on different podcasts

COVID timeline

Called the start of gold, now calling another bull market in Bitcoin

Ideas for the show going forward:

Being Jason Bourne 

Most Interesting Man in the room, Indian Jones

Country specific

Hit me up on Twitter – @thorupmikkel

Answering many of the questions from our readers especially for Episode 100
HOW TO REACH MIKKEL THORUP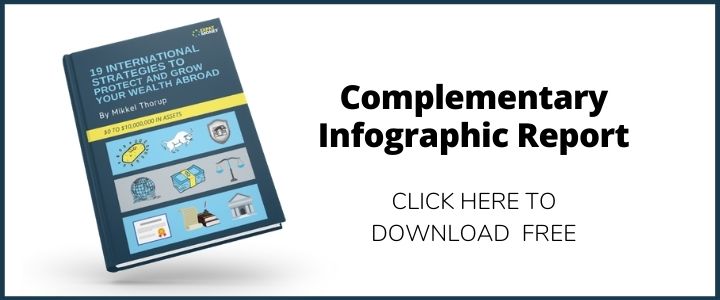 Reach out to Mikkel on Twitter @thorupmikkel
Brand new Expat Facebook Group, Expat Money Forum, please go HERE
RELATED ARTICLES & PODCAST EPISODES
EP 087: Paul Rosenberg – The Man Who May Have Inspired The Creation Of Bitcoin
EP 089: Gill Phelan – Is Costa Rica The Perfect Place To Be An Expat?
EP 092: Rich Checkan – Why Gold In An International Portfolio Is More Important Than Ever Before
FINAL THOUGHTS
What an amazing year I've had. Leaving the UAE and arriving in Panama 15 months ago. Taking over the Escape Artist brand has been so exciting and rewarding. If you're all about freedom and personal responsibility, you'll love episode #100.