105: Offshore Banking – What You Need To Know – Luigi Wewege

Today's guest on the Expat Money Show is Luigi Wewege, Senior Vice President and Head of Private Banking at Caye International Bank, headquartered on the beautiful island of Ambergris Caye in Belize. Outside of the bank, he serves as an Instructor at the FinTech School which provides online training courses on the latest technology and innovation developments within the financial services industry. He is also the published author of The Digital Banking Revolution.
Today's interview was really fun to record. This is a first for us and we're learning the ropes for audio and video. Instead of my guest being in another country or city, Luigi came to my office here in downtown Panama and we recorded live video and then made an audio recording for our podcast. You will notice the sound is a little different, but the quality of the guest is outstanding. Luigi is so knowledgeable regarding offshore banking that you'll truly want to listen to the entire episode.
TOPICS DISCUSSED IN DETAIL IN THIS INTERVIEW:
What is an Offshore Bank?

Why don't people use their local bank?

Reasons why offshore banks would help

What if you have a 9-5 job as an expat in a new country?

Asset Protection – how it would help

Zero tax jurisdiction

Jurisdictions that are famous

De-risking and what it is

What is FATCA & CRS

KYC and Money Laundering

Accounts with multiple currencies

Who can apply

Luigi's book:  

The Digital Banking Revolution

And so much more….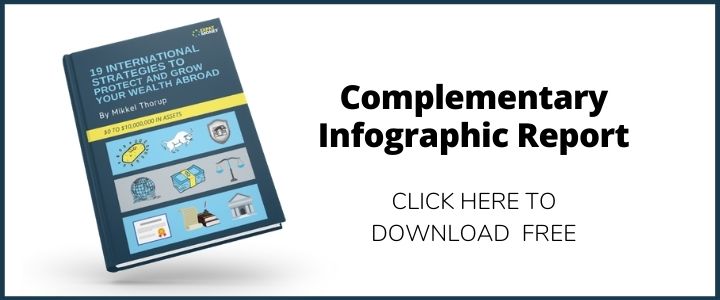 Here are 5 really important things you will learn from this conversation:
Take your application seriously. This is not like your local banks. Work with a 3rd party that has a reputation with the bank.

Offshore banking has different price points than domestic banks

Offshore costs more

International business & Asset protection and diversification

Take your jurisdiction seriously, they are not all the same
RELATED PODCAST EPISODES
085: Warren Black – International Tax Expert Champions For Sovereignty
084: Mark Nestmann – Why Americans Shouldn't Have Negative Views Towards Offshore Investing
081: Joel Nagel – Best Countries for Citizenship by Investment and Residency by Investment
FINAL THOUGHTS
Great conversation with my good friend Luigi Wewege. As I mentioned at the beginning of the interview, we met almost 3 years ago in Dubai and became fast friends. He's one of the reasons I moved my family to Panama, all the great things he talked about living here. This is a really great video interview with him about all things Offshore.