091: The Wandering Investor Shares Insights From Around The World – Ladislas Maurice
My guest today on the Expat Money Show is Ladislas Maurice from The Wandering Investor. After obtaining his Bachelor of Business Administration from Bishop's University in Canada and his Masters of International Business & Law from the University of Sydney in Australia, he spent 7 years in the corporate world. At age 30, after a fantastic experience, great learnings and profitable side investments, he cashed out & wandered off, wanting to deepen his investing skills. He has travelled to almost 100 countries and lived in a dozen countries across Europe, North America, the Middle East, Africa, Asia, and Oceania. He speaks English, French, Russian and German.
If investing outside your home country, preferably somewhere with higher growth potential or yields is what you're looking for then you'll love this podcast episode.
In this episode, we do something a little different. Instead of compiling a bunch of questions for Ladislas, Mikkel decided to have a friendly chat to talk about Investment opportunities around the world, cool places they have visited and just opened the floor for some really great conversation.
Both Ladislas and Mikkel have visited roughly 100 countries give or take in their lifetime and they wanted to talk about how different countries offer different benefits for investing. And those that both would agree were not wise investments.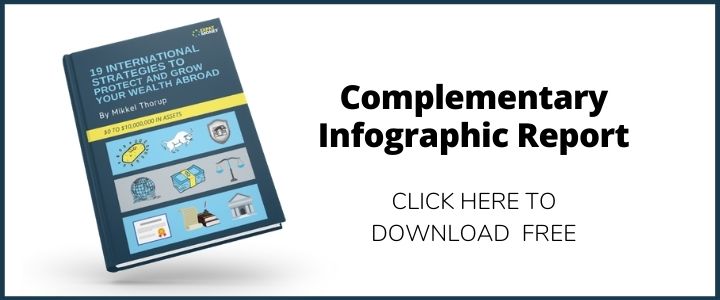 Ladislas grew up with expat parents, which obviously swayed his decision to become an expat after working in the corporate world. The really neat thing about Ladislas travels is that he has wandered through countries that most would never even think of going. Some were for business, others purely pleasure.
Listen in while Mikkel and Ladislas talk about:
Uzbekistan
Ivory Coast
Liberia
Ghana
Oman
Georgia
Corruption in Africa
Investing in Africa (no brainer!)
and the theft from the Federal Reserve
What Makes The Wandering Investor So Unique
Ladislas then talks about his philosophy for investing and what makes his approach so appealing and down to earth and why he has become so successful at what he does.
Lastly, they discuss Bitcoin. Why Ladislas loves it and the history with Bitcoin for both Mikkel and Ladislas.
How to Reach Ladislas Maurice
Related Articles & Podcast Episodes
EP 068: Gunnar Garfors – Travel adventurer visits every country in the world! Not once but twice!
EP 066: Christoph Heuermann – Free private city projects in Honduras and Alternative investments in walnut farms overseas.
EP 055: Bobby Casey – An expat anarchist explains how blockchain can replace government
Final Thoughts
What a great episode for me to record. It was fun, easy-going and lots of great actionable steps for anyone that is thinking about investing outside of their home country. The hour flew by so fast, I wished we had more time. With that being said, I'm pretty sure I'll have Ladislas back on the show before long, as they say, birds of a feather flock together. Enjoy this episode!