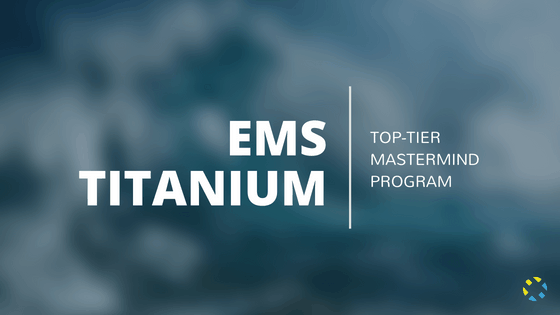 EMS TITANIUM IS OUR TOP TIER MASTERMIND PROGRAM
The Ultimate Mastermind and Elite Training Program for International Entrepreneurs
Lead By Mikkel Thorup

The EMS Titanium Coaching Group is for driven International Entrepreneurs and presents a great opportunity to get direct, hands-on help in taking your business to new heights, at a faster pace and progress. This is a small group, mastermind setting, and is through application only.
This is the most complete and powerful program, appropriate for both "beginner" and "intermediate" International Entrepreneurs; those with core businesses and info-businesses that want to automate, outsource and make their business location independent. Those who are ready to move their revenue past 6-figures without handcuffing themselves to a traditional office.
EMS Titanium offers an unmatched collection of business growth and success resources, training, networking, mastermind work and support.
There is a simple and obvious AND DRAMATIC multiplier effect
A group full of smart and progressive people within a field sharing and exchanging information drawn from their marketing tests, successes and failures, solving of problems, the hiring of virtual staff, etc. is a 20X against your own experience. This is a way to move further faster.
There is a unique efficiency
Every two weeks you are on a call, away from your regular day to day activities, away from interruptions and disruption, work "on not in" the business in an idea-charged, experience-rich environment can produce more clarity and actionable strategy than what might come from sixty days of normal activity.
Finally, there is internal competition
In a group like this, no one wants to be the laggard. Everybody wants to be THE biggest dog of the big dogs. That's fantastic– it stimulates everybody to do more, to implement more, to get smarter and to bring more.
To download the application for EMS Titanium you can click the button below. Once your application is completed you can email it back to support@MikkelThorup.com and one of my dedicated staff will contact you shortly to explain the next steps you will need to take if your application is accepted.
I UNDERSTAND THAT BY APPLYING I AM NOT GUARANTEED ACCEPTANCE INTO THE PROGRAM AND THAT I WILL ONLY BE CHARGED IF MY APPLICATION IS ACCEPTED 
EMS Titanium Gives You Complete Access
Including twice monthly group Mastermind Calls with Mikkel Thorup himself
Video recordings of all Mastermind calls you attend 
Special Meet & Greets with the world's top Entrepreneurs

Invitations to all EMS Retreats

Access to a private Facebook group with other EMS Titanium members
Bonus #1

– Full access to EMS Underground ($800 value yours free)
(Launching January 2019)
EMS Monthly Intelligence Dispatch - delivered right to your door (physical)
EMS Quarterly Deep Dive Reports  (physical)
Invitations to EMS Adventure Trips

Access to EMS Concierge Services

Use of Mikkel Thorup's Personal Rolodex
Bonus #2

- 1 on 1 Introductory Coaching Call with Mikkel Thorup ($500 value yours free)
60-Minute online meeting with ME, not my assistants or employees
Walk away with actionable international business strategies you can implement immediately
Video recording of the call so you can review the material whenever you want
Notes recapping our meeting with an emphasis on key action steps
Follow up via email one week later to ensure you are on track and to answer any additional questions
I UNDERSTAND THAT BY APPLYING I AM NOT GUARANTEED ACCEPTANCE INTO THE PROGRAM AND THAT I WILL ONLY BE CHARGED IF MY APPLICATION IS ACCEPTED 

Daniel Mac Sweeney
Founder of Finacial Freedom Forever Online Entrepreneurs Community 
DanielMacSweeney.com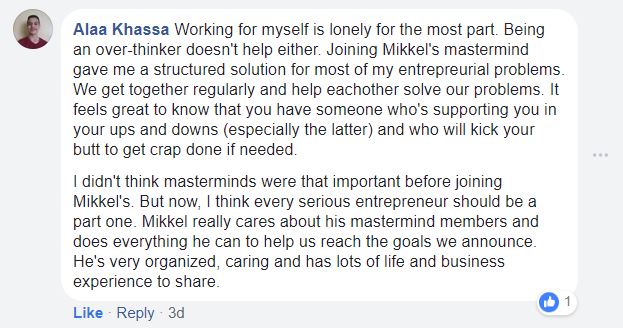 Alaa Khassa
Entrepreneur and Sales Funnel Building Expert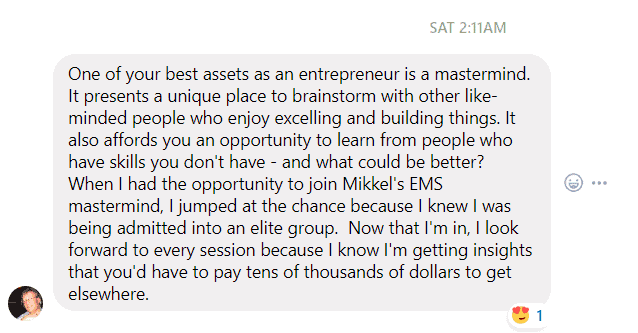 Tom Augenthaler
Entrepreneur and Consultant
TheInfluenceMarketer.com